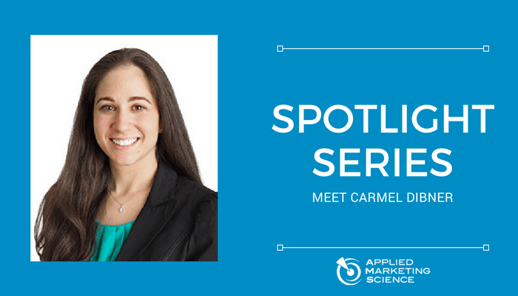 As the first installment in our Spotlight Series, we'll be speaking to Carmel Dibner, a principal at Applied Marketing Science. Carmel is responsible for client relationship management, client services delivery, and business development, with expertise in consumer products and services. Recently, she is particularly excited about how AI and Machine Learning are transforming the field of market research.

Tell us about your market research background.
I began working in market research in 2007 when I joined AMS as an analyst. For four years, I worked on a variety of qualitative and quantitative research projects and developed the fundamental skills of market research including research design, interviewing, analysis, and report development. In 2010, I left AMS to pursue my MBA full-time at Wharton where I majored in marketing and management. During my MBA, I interned in corporate consumer insights at what was Newell Rubbermaid (now Newell Brands). Upon completing my MBA, I worked in brand management at Unilever where I regularly leveraged market research findings in my role as a brand builder. In 2014, I returned to AMS as an associate principal responsible for growing our consumer business and further developing new research capabilities. In my current role as a principal at AMS, I oversee traditional research engagements and have also been collaborating with researchers at MIT to apply machine learning methodologies to the field of market research.
What first piqued your interest in machine learning? How did you get into the field?
In recent years, I've been fascinated by the idea of finding hidden insights in the data companies already have. Machine learning has allowed companies to take huge quantities of existing data and distill that data down to the key insights. In recent years, I've been working with a doctoral dissertation student at MIT to evaluate the effectiveness of machine learning for gathering consumer insights. When sufficient data exists, the method has repeatedly proven successful, and we've used the methodology to quickly and cost-effectively answer strategic business questions in a variety of different categories.

What kind of companies can benefit from machine learning?

Companies that have a large amount of online user generated content, such as, consumer product reviews, are typically good candidates for machine learning. For example, any product category you would find at a drug store, supermarket, or home improvement store are good candidates for machine learning. Machine learning also works well for service companies that have highly engaged professionals or consumers. Furthermore, any company that has customer call center data or responses to open-ended customer satisfaction survey data could be a good candidate for machine learning.

What do you enjoy most about working on machine learning projects?
I love helping companies that conduct a substantial amount of research already uncover new and different insights. It's very satisfying when FMCPG or consumer durables companies convey that our research is truly additive to the wealth of knowledge they already have about their category. With machine learning this is possible, because we can mine millions of records and quickly provide companies with some truly new insights that have the potential to lead to game changing innovations.
Learn more about machine learning and how it's transforming the field of market research.
Tags: Machine Learning , Big Data