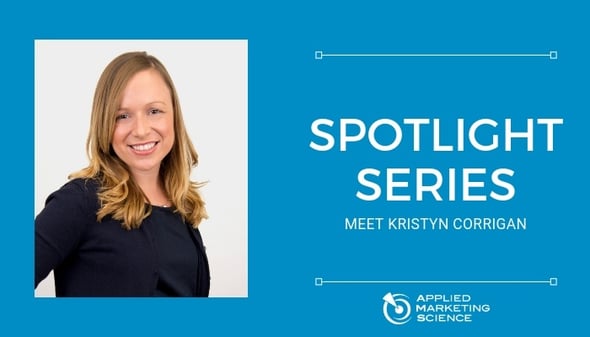 Tell us about your market research background.
My interest in market research and consumer behavior began during my undergraduate studies of sociology and marketing analytics at Providence College. During this time, I held two internships – one in consumer banking and the other at an advertising agency. Through these experiences, I quickly realized that my favorite projects were the ones that involved using customer insights to answer critical business and marketing questions. From there I decided to pursue a career in market research.
I joined the Applied Marketing Science team back in 2005 as an analyst, where I worked on a variety of qualitative and quantitative research projects. From there, I progressed to project and account management roles, spearheading research engagements for some of the world's leading brands. While at AMS, I pursued an MBA with a focus in Marketing Analytics at Bentley University. During my time there I completed two study abroad programs, one of which was an innovation intensive at the Grenoble Ecole de Management. The other involved studying consumer behavior in China.
In my current role as a principal at AMS, I oversee client research engagements and am responsible for the strategic and operational management of AMS's insights for innovation practice. Although I've worked with clients across many industries, I have considerable experience in heavy equipment, construction materials, engineered components, medical devices and consumer durables. I know how to design and execute engagements in ways that not only answer my clients' most important business questions, but also provide them with actionable insights for use across the organization.
Some people are surprised to learn that AMS offers private trainings. Since you're involved in private trainings, can you tell us more about them?
Absolutely. I always like to tell clients that at AMS our partnership model is a spectrum. At the one end you have the more traditional, fully outsourced market research engagement and on the other you have private trainings where we come, in-person, to your organization to train a group of people in the theory and application of Voice of the Customer or other market research techniques. We also offer action learning and coaching models where we share the research tasks and the team learns as we go. All of our sessions are led by AMS principals with decades of practical and instructional experience. Trainings typically last 1-2 days. These workshops are interactive and allow for teams to understand the why behind the method as well as the how. At the end of a private training with AMS, our goal is for teams to be ready to act on what they've learned and implement their new skills across the organization. Our online toolkit and continued availability for ongoing coaching and consulting helps to make this a reality.
When is it best to seek a private training (vs attending a public training workshop)?
I always recommend that clients go for private training when they have 10 or more individuals that they would like to train. This is for the company who really wants to make Voice of the Customer an internal capability. Our public training workshops, offered in various US cities periodically over the course of the year, are a great way to test-drive our material to see if it's something that you'd like to bring in to a larger group internally. Additionally, public training is also great if you've previously had us in for a training and have a few folks that you would like to bring up to speed.
How do you see market research transforming in the future?
More than ever, customers are interacting with our brands and voicing their opinions. They're sharing on social media, leaving comments on review sites and talking with others in forums. In many instances, we're shifting away from the need to ask consumers questions directly to actively listening to what they're volunteering – and from there, synthesizing and interpreting it. There's a goldmine of insights but oftentimes companies feel overwhelmed. I often get questions like – where do I start? How do I know I've gotten all of the important insights from massive amount of data that's available? Advances in machine learning and AI have been instrumental in sifting through this goldmine of insights. It's been so exciting for me to be on the ground floor of AMS's collaboration with MIT to develop our own machine learning offering – blending the best of technical and human analysis.
What are some market research trends that shouldn't be overlooked?
Hands down – it's customer experience. Whether B2B, B2C or director to consumer, it's more important than ever to pay attention to the entire experience a customer has with your brand/company from start to finish. More than just the touchpoints and tasks, it's essential to have a deep understanding of customer needs and emotions across the entire journey. Knowing where you're losing customers, where they are delighted, and why, will empower companies to keep customers as well as to attract new ones.
Do you have any suggestions for getting buy-in within a company for a market research project?
In my career, I've learned that getting buy-in is essential for any market research to be successful in an organization. And this buy-in should happen as early as possible. Specifically, there needs to be alignment on the objectives of the research, the questions it will and won't answer and what's going to happen once it's completed. In my experience, a great way to do this is through stakeholder interviews. This typically involves in-depth discussions between the research partner and a cross functional mix of key stakeholders to gain alignment on the research objectives and hypotheses to be tested.
What are some common misconceptions about customer insights?
I have to say that one of the most common misconceptions I hear is that customers can't tell you what they want. But, the fundamental mistake is assuming that in market research we're literally asking customers "what do you want?" If you ask a question like this, it's not surprising what you'll hear: solutions. And requests for solutions are almost always disappointing. When it comes to innovating - customers are just not that creative and we shouldn't expect them to be. What we can understand from our customers is what they need. And by understanding the emotional, functional and experiential needs of our customers, we can come up with the innovations and customer experience to most satisfy them.
To learn more about innovating the customer experience, watch Kristyn's recent webinar, Using Journey Maps to Transform the Customer Experience.
Tags: Insights Training