Principal and Discrete Choice Methodology Lead Patty Yanes and Senior Manager Rachael Settipani of Applied Marketing Science (AMS) will be presenting a session at the upcoming Insights Association Corporate Researchers Conference (CRC) 2022, taking place from October the 26th to 28th in New York City.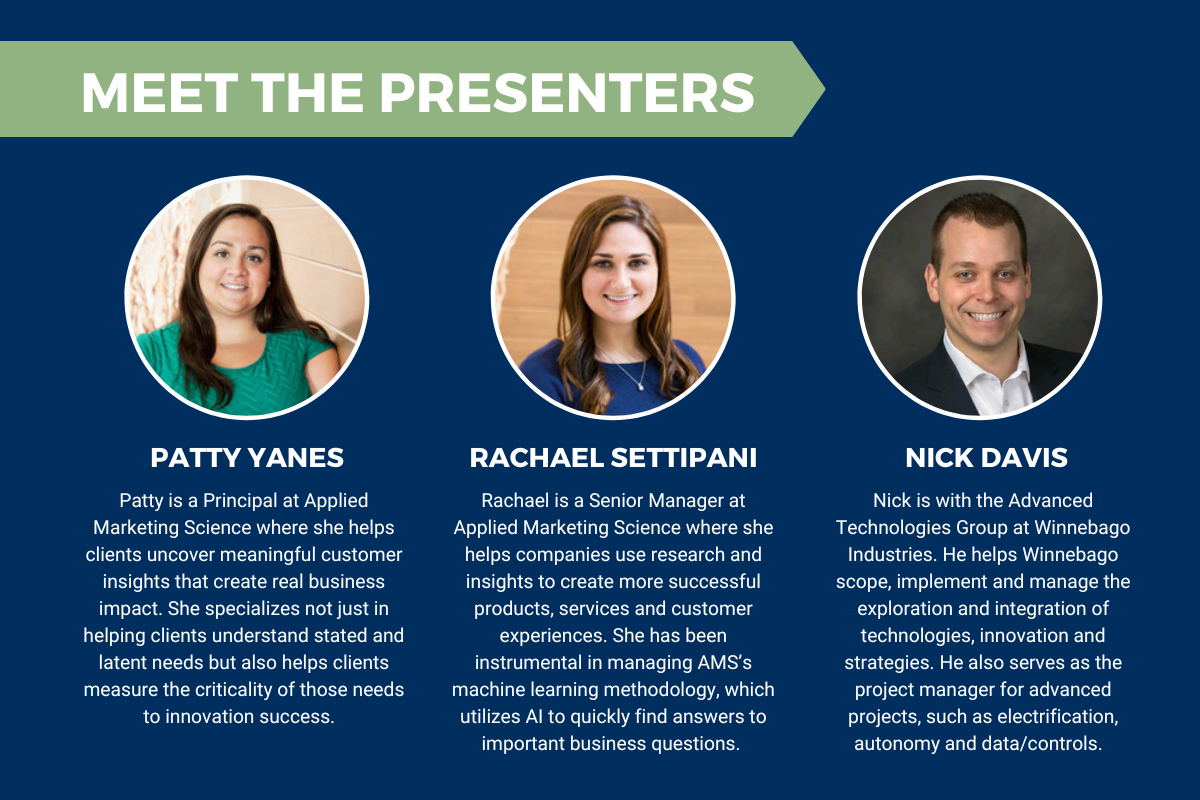 Nick Davis of Winnebago Industries will be joining Patty and Rachael for a jointly-presented session titled "Driving Next Generation RV Design" on Thursday the 27th from 10:00-10:30am ET. They will explore how Winnebago and AMS used several unconventional techniques, including Machine Learning and AI to gain important insights to inform innovative RV designs that utilize advanced technology. Session attendees will learn how they utilized opportunistic research occasions and existing data from both internal and external sources, such as social media and call center records, to take a systematic approach to gathering customer needs. Machine learning has offered critical, game-changing new insights to develop the next generation of advanced RVs.
The Insights Association protects and creates demand for the evolving Insights and Analytics industry by promoting the indisputable role of insights in driving business impact. Their members are the world's leading producers of intelligence, analytics and insights defining the needs, attitudes and behaviors of consumers, organizations and their employees, students and citizens.
The conference is designed for corporate researchers, providing them with opportunities to learn from and connect with innovators and decision-makers. Insights leaders will lead conversations on sustainability, DEI, and talent acquisition, and attendees can participate in sessions on brand-led case studies that detail the research process and true business impact.
Are you interested in learning more about machine learning? Machine learning is a powerful tool that can be used to unlock customer needs and insights, powering innovation for better products and services. For more information, or to schedule a consultation, contact Carmel Dibner at cdibner@ams-inc.com or (781) 250-6325.
Tags: Machine Learning , Conferences