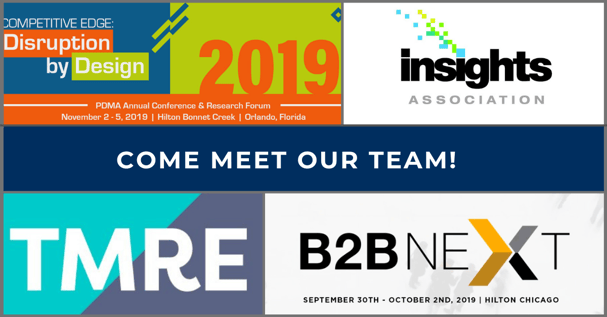 Come meet AMS on the road this fall! Hear about new breakthroughs in conjoint analysis, the latest advances in machine learning for market research, and more from our innovation experts and clients. Hope to see you there!
B2B Next Conference
AMS President & Managing Principal John Mitchell will be presenting at the 2019 B2B Next Conference, taking place in Chicago, IL. John will be speaking alongside professionals from Dow Jones, Verizon, and more on a panel entitled "How Do You Pick Your Favorite Child? Deciding Who the Customer Is in a B2B Ecosystem.'' Join us on Wednesday, October 2nd at 1:30 p.m. to learn how to prioritize your resources and meet the needs of multiple parties.
IA Corporate Researchers Conference
Join us in Orlando at the 2019 Corporate Researchers Conference to hear John Mitchell and Michelle Grushko of Twitter discuss breakthrough applications of conjoint analysis. John and Michelle will present findings from a new study investigating how Twitter ad impressions impact brand value. The session is taking place on Thursday, October 24th from 1:30-2:15 p.m.
If you're interested in learning more about the use of machine learning in market research, AMS Principal Kristyn Corrigan will also be presenting at the annual Corporate Researchers Conference. Her session, "The Future of Innovation: Faster, Better Insights with AI" will dive into the use of machine learning for uncovering critical, actionable insights for innovation. Don't miss this Innovation Lab session on Wednesday, October 23rd from 2:40-2:55 p.m.
Use code CRCAMS for a 20% discount on registration.

PDMA Conference
Gerry Katz and Kristyn Corrigan of AMS will be presenting alongside client Douglas Clark of Douglas Dynamics at the 2019 Product Development and Management Association Conference. The team will discuss how new advances in machine learning can drastically improve current research practices and uncover new hidden insights. The presentation will include an illustrative case example from Douglas Dynamics. Don't miss their breakout session taking place on Monday, November 4th at 10:00-10:45 a.m.
The Market Research Event
AMS Associate Principal Patricia Yanes will be discussing "Smarter Insights with AI: How Machine Learning is Revolutionizing Customer Insights" at TMRE 2019. Join Patty at 9:45-10:30 a.m. on Wednesday, November 6th to learn how machine learning can uncover game-changing insights from existing content, including nuanced insights that traditional research may overlook. TMRE is taking place in Las Vegas, NV from November 4th-7th.
IA Converge: The Intersection of Data Science, Market Research & Analytics
Don't miss John Mitchell's presentation "AI Applied: Synthesize More, Analyze Less - How AI Can Make Insights Generation Faster & Faster" on Monday, December 10th at 1:00 p.m. The informative session will explain both the science and art behind machine learning and provide evidence of its effectiveness through case examples in both B2C and B2C categories. IA Converge is taking place in Los Angeles from December 10th-11th.
Tags: Conferences , Conjoint Analysis and Discrete Choice , Machine Learning/AI